Product Description
Preserve Your Memories II (PYM 2) - Spray Varnish that works beautifully with Polymer Clay!
I cannot say enough about this spray varnish!! It is quick and easy to apply and it dries in about 2 minutes!!
It leaves a medium glossy finish.
Not so shiny that you lose details in your project but just shiny enough to give some sparkle!!
It is perfect for protecting metallic powders and other detailing work!
Not only is this great for spraying polymer clay but you can also use it for it's original purpose of preserving your important papers and memories. Great for scrapbookers as well as polymer clay artists!!
VOC exempt

Environmentally Friendly

Dries in less than 2 minutes

Non-yellowing

Provides Write - Erasable surface

Includes a proven UV blocker

Reduces color fading

Takes on texture of material being coated

Coats paper, vellum, plastics, metals, marker, pencil, chalks and more.

Water Repellent

Acid Free

Made in the USA
Note about Shipping
PLEASE NOTE: Because this must ship separately (by USPS ground), $10 per can shipping is always added to your invoice, even if you are getting free shipping with the rest of your order. If you are ordering several cans, store credit will be given for shipping overage.
12 ounces will last a long time and be well worth the price for the time it saves!
Click to read a review by Ginger of The Blue Bottle Tree.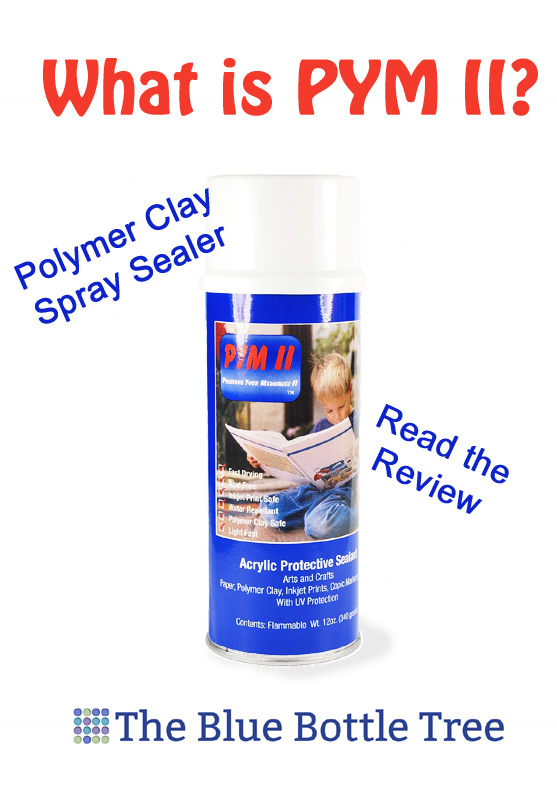 Preserve Your Memories II is a clear, aerosol spray coating that protects and helps preserve paper as well as Polymer Clay! Spray it on polymer clay, newspaper clippings, ink-jet printed photos, children's artwork, wood, metals and more to protect against color fading and yellowing. It adds a beautiful shine to polymer clay pieces!
You can spray it on before or after curing your polymer clay piece. It is recommended, as with other varnishes you have used on PC, that you heat cure it for a longer lasting protection.
How To
You need to spray on a thin coat of PYM II. If you want additional gloss, let the piece dry and then spray again. If you spray it on too thick or too soon between coats, it may remain sticky. The first coat should always be a thin misting then the second still a thin coat. PYM II is dry to the touch in about 2 minutes but not completely cured until 24 hours.
Texture
PYM II takes on the texture of the material sealed. Matte will stay Matte, Gloss will stay gloss. It won't change the appearance.
UV Protection
PYM II also has UV protection. As always spray something similar first as a trial to see if this is the look you want.
Jewelry
Sprayed on Jewelry to be worn against the skin - We have not had anyone post or report any reactions but everyone's body is different and reacts differently. For example - some people cannot wear any jewelry that is not gold or silver because their body reacts to the materials.
Be sure to let it dry for 24 to 36 hours before wearing.
Save
Save
Save
Save
Save
Save
Save
Save
Save
Save
Save
Save
Save
Save
Save
Save
Save
Save
Save
Save
Save
Save
Save
Save
Save
Custom Field
Product Reviews
I love this stuff! I do a lot of surface effects with mica powders, glitters, etc. on my polymer clay pieces. PYM II is perfect as a sealer and a finish on its own or to just hold the effects in place while I apply another finish like Varathane. Either way, it's indispensable and I'm so grateful that Trish has it available.

First, I was excited to try this product! There are not many recommended products for sealing polymer clay creations. So when I found the recommendation I wanted to try this right away. I understood that because it is flammable it had to travel by land to my home, so I prepared for a long wait. I was very pleasantly surprised to receive it at least a week before I anticipated! I used it right away and am SO thrilled with the results!! A nice, light satin finish! And it dries quickly. I happened to be working on a paper-based project this weekend as well, and used it on that project. Same great outcome. Thank you for 1) carrying this product -- it is hard to find! and 2) shipping so carefully and well!

Love it.
You May Also Like...