Product Description
I am pleased to carry the distinguished Canadian polymer clay artist, designer, teacher and author Helen Breil's texture stamps and designs!
Be sure to take a look at her husband, Mike Breil's Pixie Art Stamps!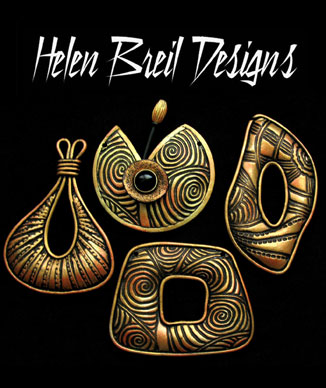 Helen Breil's line of Texture Stamps are made of high quality rubber and all measure 4" X 5" overall and have a textured area of 3-7/8" x 4-7/8". Texture Stamps are flexible, washable and can be used with any soft clay: silver clay, bronze clay, polymer, earthen, porcelain, paper and fabric. etc. You may need to use a release for the cleanest impressions when working with metal clay. This stamp has a large surface and therefore you can get clear impressions. There are infinite design possibilities with the same texture, simply by the method you use to impress your surface. Clean your Texture Stamps with mild soap and water. Enjoy!
All Helen Breil's stamps with the exception of Jitterbug were produced from her original hand-drawn designs. They were inspired by the Zentangles meditative, repetitive-pattern approach to drawing.
They are all 4"x5" in size and will go through most pasta machines for those of you working in polymer clay.
They also work well with Metal Clay, metal etching and paper projects.

Note you may freely incorporate Helen Breil Designs stamp impressions into your work, whether your art is for personal use or for sale.
You can read more about Helen Breil here.
Save
Save
Save
Save
Save
Save
Save
Save
Save
Save
Save
Save
Save
Save
Save
Product Videos
Custom Field
Product Reviews
I love these texture stamps! Looking forward to making a wide variety of designs.

Helen Breil Texture Stamps

Love them!

These stamps are well made and deliver a deep impression on polymer clay, making them suitable for texturing, mokume gane, and Sutton slices.
There are a variety of designs, some of which correspond to her silkscreens. Each stamp comes in a resealable plastic sleeve that they can be stored in when not in use.
I love these stamps!
You May Also Like...